Document Actions
INESC TEC creates 1st 3D video system in the world to help patients with epilepsy
A team of researchers from INESC TEC's Centre for Biomedical Engineering Research (C-BER), led by João Paulo Cunha, have created the first system in the world to use 3D video technology to extract body movements during epileptic seizures. This new system can help health professionals to diagnose patients and define therapies, not only for epilepsy patients, but also for patients with other neurological illnesses, such as Parkinson's.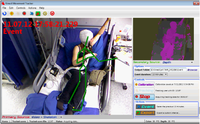 The goal now is to take this system – which has been tested for over a year at the University of Munich's Neurology Department – to other medical units monitoring epilepsy, and to work together with them for the benefit of the patients. Because this system is affordable, it has the potential to be deployed in multiple epilepsy units around the world, even in developing countries.
The system does not require any reflectors or sensors to be attached to the patient's body, or any intervention on the bed where the patient is being monitored. This is possible because the system combines high definition video with a high speed infrared radar to obtain thirty 3D images per second. The 3D sensors have been synchronised with the brain activity (EEG) of the monitored patient, and are now being used in a real hospital environment, in Munich (Germany), at a medical centre that serves 8 million people in this area of neurology alone.
"Our 3D system can extract body movement trajectories a lot faster than the 2D system used previously and, combined with the EEG, it offers more quantitative information for the physician to diagnose and decide on the most suitable treatment for the patients", explains João Paulo Cunha, coordinator of INESC TEC's Centre for Biomedical Engineering Research (C-BER), who is in charge of the project.
This work, developed by researchers from INESC TEC, the University of Aveiro, the University of Munich, and the Munich University of Technology, has been published on 22 January in PLoS ONE[1], a publication that on Google Scholar, in the Life Sciences & Earth Sciences area, only comes second to journals such as Nature, Science and PNAS in terms of scientific impact metrics.
"Publishing this work in PLoS ONE is recognition of the research we have been conducting on this topic, and could be a gateway for other Portuguese researchers to publish their findings in one of the most relevant journals in the world", concludes João Paulo Cunha, who also teaches at the Faculty of Engineering of the University of Porto (FEUP).
The INESC TEC researcher mentioned in this news piece is associated with UP-FEUP.
INESC TEC, January 2016