Document Actions
INESC TEC and FCUP celebrate "Science Fiction Week" (Viva!Porto)
The event includes the screening of films, discussions, and a photo, short film and illustration contest.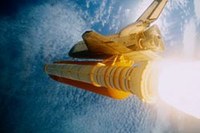 Between 17 and 18 September, INESC TEC and the Faculty of Science of the University of Porto (FCUP) will be addressing the theme of science fiction in an event that will include the screening of films, as well as lectures and discussions. According to FCUP, "SYFY Scientific Review – Science Fiction Week" is the result of the increasing interest in the theme among the scientific community.
"Science fiction authors are inspired by the work developed in these scientific areas, and oftentimes they are based on scientific data that support a scientific fictional imagination", states Orlando Frazão, researcher at INESC TEC and one of the initiative's organisers. According to Orlando Frazão, "several scientists and researchers acknowledge that science fiction plays an important role on triggering imagination, on which it is possible to develop current science."
On the first day of the event, there will be a screening of the films "Forbidden Planet" (1956), "Blade Runner" (1982) and "Interstellar" (2014). The following day will be dedicated to lectures and discussions on science themes applied to films, with the participation of scientists, professors, researchers in exact sciences and engineering, and science fiction writers. The programme also includes the Short Film, Photography and Illustration Competition (SPIC), on the theme "International Year of Light 2015" (applications open between 1 August and 13 September).