Document Actions
INESC TEC researcher awarded in conference in the USA
Ana Rita Ribeiro, researcher at INESC TEC's Centre for Applied Photonics (CAP) and PhD students at the Faculty of Science of the University of Porto (FCUP), has been awarded in one of the most prestigious international conferences on lasers and photonics, the SPIE Photonics West, which took place between 13 and 18 February in San Francisco, United States.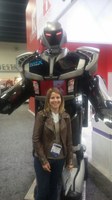 Ana Rita Ribeiro
The Portuguese researcher has been awarded for her presentation titled "Compact solutions for optical fiber tweezers using Fresnel zone and phase plates fabricated using focused ion beam milling". Ana Rita Ribeiro was also in charge of the presentation "Generation of Laguerre Gaussian beams using spiral phase diffractive elements fabricated on optical fibers tips using focused ion beam milling". Both papers have been developed together with Ariel Guerreiro and Pedro Jorge (also researchers at CAP and Ana Rita Ribeiro's advisers), Jaime Viegas (former researcher at CAP, and currently working at the Masdar Institute of Science and Technology, United Arab Emirates), and Pabitra Dahal (Jaime Viegas's PhD student). The winning work has been partly developed at Abu Dhabi.
Ana Rita Ribeiro developed this work as part of project "INCELL – Optical Fibre Instrumentation to Manipulate and Analyse Cells", where the goal is to develop and validate optical fibre to micromanipulate and sense analyse cells. More specifically, the work presented by the Portuguese researcher focuses on micro diffractive elements or with phase modulation, to generate beams with special features that make it possible to lock or rotate cells just using light.
As part of this project, Ana Rita Ribeiro won a ThorLabs Full Scholarship, having been selected from 70 researchers from all over the world. Her PhD research is being conducted in collaboration with the Portuguese Institute of Chemical and Biological Technology (ITQB) and the Institut de Sciences des Materiaux de Mulhouse - IS2M in France.
The SPIE Photonics West is one of the most important photonics conferences. This edition welcomed over 20 thousand participants.

The INESC TEC researcher mentioned in this news piece is associated with UP-FCUP and INESC TEC.
INESC TEC, February 2016