Document Actions
Palco 3.0 (news article)
Intelligent Web System to Support the Management of a Social Network in the Music Area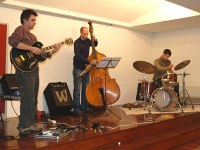 INESC TEC participated in the development of Project Palco 3.0 – Intelligent Web System to Support the Management of a Social Network in the Music Area, which started in January 2009 and ended in December 2011.
Palco 3.0 aimed to develop the base platform of an already existing music website (http://palcoprincipal.com/), by promoting and maximising automation and innovation in several processes, such as content identification, automatic classification, selective research, organisation, sharing, recommendation and intelligent processing of all types of data involved (music, preferences, texts, photographs, posts, among others).
With this project, the intention was to achieve several scientific and technological innovations in the areas of Audio and Musical Signal Analysis, Machine Learning and Data Mining, adaptive Web Systems, and even in the area of Collective Intelligence and collaborative platforms.
This is an R&TD co-promoted project, financed by the National Strategic Reference Framework (NSRF), led by the company Palco Principal, Lda, and includes partners such as INESC TEC (through CSIG, CTM, LIAAD and CRACS), and the Faculties of Engineering, Science and Economics of the University of Porto.
In June 2006, a national website (www.palcoprincipal.com) owned by Palco Principal Lda was created in order to receive the largest Portuguese music community on the Web, gathering more than 7800 music bands, 20 thousand songs that you can listen to or download, with 30 thousand registered visitors and about 100 thousand regular hits.
With an already consolidated presence in the Brazilian market – partnership with one of the country's most important portals, UOL.com.br –, Palco Principal is currently at an important stage of expansion to other countries, such as Angola, Mozambique and Cape Verde. In fact, similarly to what is already happening in Portugal and in Brazil, since January 2009, these African countries can collect, disseminate and share music contents, as well as interact with producers, listeners and adjacent music entities.
All these communities will benefit from the technological results that were achieved in the context of this project.