Document Actions
Project iBrow helps to modernise INESC TEC lab
On 23 and 24 January, INESC TEC welcomed the consortium of H2020 project iBrow, which features universities, institutes and companies from several European countries, such as United Kingdom, France, Germany and Portugal.
The iBrow, or Innovative ultra-BROadband ubiquitous Wireless communications through terahertz transceivers, is a project whose goal is to develop new, low-cost and energy-efficient wireless transmission technologies to support the increasing requirements in data transmission.
The need for broadband contents and services has been increasing over the last years, and predictions indicate that by 2020 the data transmission rates from wireless systems will surpass several dozens of gigabits per second. The technologies used today cannot support these needs, and for that reason, it is necessary to develop new and efficient technological platforms to enable an ultrafast transmission of data using fibre optics.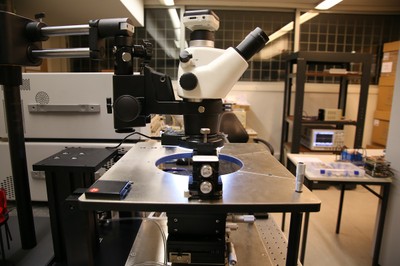 Throughout the project, the team of researchers from INESC TEC's Centre for Telecommunications and Multimedia (CTM), led by Luís Pessoa, has developed an innovate antenna for integrated circuit, with broadband characteristics (Ultra Wide Band - UWB), with 90GHz broadband, and a central frequency of 280 GHz, which is the subject of a paper soon to be published. The team has also been working on a 3D electromagnetic simulation model for packaged resonant diodes and lasers, which are fundamental parts of the broadband communication solution.
This project is strategic to INESC TEC, as it allows the institution to take a leading position at a European level in the field of antennas, integrated circuits and optical communications. Furthermore, it has made it possible to improve the institution's lab with an RF probe station for wafers up to 150 mm, which are used to characterise integrated circuits in wafer up to 110 GHz.
The iBrow is now in its last year and will be concluded in late 2017. In this last stage, the team should coordinate the development and testing of the final demonstrator, where HD videos will be transmitted in a wireless 300 GHz communication system.
The researcher mentioned in this news piece is associated with INESC TEC.
INESC TEC, January 2017