Document Actions
Prize for article presented at the Brazilian Congress on Informatics in Education
The article "SimProgramming: uma abordagem motivacional para a aprendizagem de alunos intermediários de programação" [SimProgramming: a motivational approach to learning for intermediate students of programming], by Ricardo Rodrigues Nunes, researcher at the Centre for Information Systems and Computer Graphics (CSIG) of INESC TEC, won the award for best paper at the "III Workshop on Teaching Computational Thinking, Algorithms and Programming - WAlgProg/2017".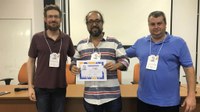 Award CSIG
This work aims to motivate students to develop their learning of computer programming in higher education, particularly in the transition from the beginner to the advanced level. To achieve this goal, a motivational approach called SimProgramming was developed, whose application in the teaching of computer programming in intermediate classes has shown promise and the potential to be used in other educational contexts.
The paper was supervised by Leonel Morgado (CSIG), Hugo Paredes (CMU) and Paulo Martins (CSIG) and was developed in partnership with researchers Daniela Pedrosa, José Cravino and Carlos Barreira.
WAlgProg was created to respond to the Brazilian need to gather research on teaching Computational Thinking, Algorithms and Programming in the same debate. The general objective of the workshop is to promote a periodical opportunity for discussion and integration of research on methods, techniques and tools that assist in the teaching and learning process of these areas.
The third edition of the event was part of the 2017 Brazilian Congress on Informatics in Education (CBIE), under the theme "Learning of Things", which was held at the Federal University of Pernambuco, Recife, Pernambuco, between 30 October and 2 November. This sixth edition focused on discussions about how to use the technological support provided by the Internet of Things to promote contextualised opportunities for learning.
CBIE is an annual international event of the Brazilian Computer Society that seeks to promote and encourage the exchange of experiences between the scientific, professional, governmental and business communities in the area of IT in Education.
The INESC TEC researchers mentioned in this news piece are associated with INESC TEC, UAberta and UTAD.