Document Actions
Project from INESC TEC researcher gets 1st place at the Astellas Oncology Awards
HOPE is the name of the videogame that won a prize of 50 thousand euros by getting the first place of the Astellas Oncology C3 Prize, an international competition that distinguishes the best technological therapies for cancer patients.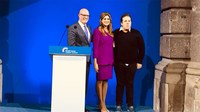 HOPE
Designed by Hernâni Zão Oliveira, currently a PhD student in Digital Media at the Faculty of Engineering of the University of Porto (FEUP), this project began with the thesis of Nuno Patraquim, of the Master in Informatics and Computing Engineering of FEUP, and had the collaboration of Rui Rodrigues, researcher at the Centre for Information Systems and Computer Graphics (CSIG) of INESC TEC and professor at the Department of Informatics Engineering of FEUP, and João Jacob, both in the context of the GIG group (Graphics, Interaction and Games) of DEI/FEUP.
The multinational Astellas Pharma, responsible for the selection of the five finalists of this second edition of the Astellas Oncology C3 Prize, has conceived this international competition to award the best technology-based projects that promote the well-being of cancer patients and their caregivers.
Selected from more than 160 projects from 21 countries, the winners were announced on 13 November in Mexico at the annual conference of the Union for International Cancer Control, the World Cancer Leaders' Summit.
HOPE was born in 2013 under the Master Degree in Oncology of the Abel Salazar Institute of Biomedical Sciences, in collaboration with the Portuguese Institute of Oncology, with the goal of helping children hospitalised with cancer to better fight the disease. Throughout the game, children take on the role of superheroes who gradually overcome a series of "enemies" involved in the process of fighting the disease, demystifying ideas and tackling the anxiety and sedentary lifestyle associated with this condition.
The HOPE project has already been a finalist in the contests "The Next Big Idea" and "National Creative Industries Award".
The INESC TEC researcher mentioned in this news piece is associated with UP-FEUP.