Document Actions
STAMINA
Sustainable and reliable robotics for part handling in manufacturing automation
The goal with the STAMINA project is to develop a mobile manipulator capable of performing logistic tasks to feed assembly lines in the automotive sector. The STAMINA project will use a holistic approach by partnering with experts in each key field, thus building on previous R&D to develop an autonomous and mobile industrial robot with different sensory, planning and physical capabilities which can be part of a robot fleet and solve three logistic and handling tasks: De-palletising, Bin-Picking and Kitting.
The development of industrial robotics is tightly connected to the automotive industry, which has been its key driver either in terms of sales and technical development. According to the IFR, the automotive industry holds a share of 36% of all robot shipments in 2011 and presents a robot density per worker in the manufacturing industry 3 to 6 times higher than other sectors. However, a detailed look into the different segments of this sector shows that final assembly steps, which include bodywork assembly and engine assembly, present low levels of automation (around 15% in comparison with >70% in welding, stamping, painting and machining. This trend is similar among most European automotive manufacturers and can be explained by the following reasons:
Customisation of vehicles: the final assembly workshop is where the car is customised; current production technologies and industrial robots are not flexible enough to cope with this.
Factory spaces and human-dominated environment.
Part storage: in the final assembly plants, the number of parts stored in bulk is much higher than in the other automotive sectors.
The large automation potential that exists in the automotive industry is thus expected to drastically increase once the following challenges are tackled:
1. Reliable and efficient bin-picking.
2. Compact and mobile robotic systems that can be reused in several operations without significant engineering efforts.
3. Robotic systems that can deal with interfaces designed for humans and safely share their workspace.
These are precisely the objectives of the STAMINA project. These developments will also have an impact on SMEs, since the requirements that the automotive sector has in terms of robot use in the final assembly operations are very similar to the ones from SMEs, namely the flexibility requirements for dealing with uncertainty and workspace sharing.
Project leader: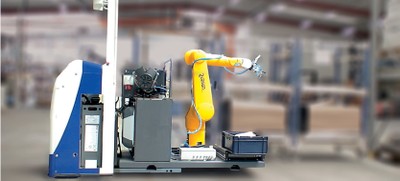 Photo: STAMINA robot concept and first prototype.
Partners:
AAU - AALBORG UNIVERSITET, Denmark;
PSA - PSA Peugeot-Citroën, France;
BAS - BA Systémes. France;
ALU-FR - Albert-Ludwigs-Universität Freiburg, Germany;
UBonn - Rheinische Friedrich-Wilhelms-Universität Bonn, Germany;
INESC TEC – INESC Tecnologia e Ciência, Portugal;
UEDIN - Univ. of Edinburgh, UK.
Financial support:
FP7- European Comission, 5M€
Official website