Document Actions
INESC TEC supports the mission of Portuguese automotive companies at PSA Peugeot - Citröen
INESC TEC, through its Centre for Innovation, Technology and Entrepreneurship (CITE), which is responsible for the internal coordination of the Enterprise Europe Network, supported the participation of a group of Portuguese companies from the automobile industry, on 17 March, in an Info Day organised by the PSA Peugeot - Citröen unit in Trnava, Slovakia, together with the Slovak Business Agency and the French-Slovak Chamber of Commerce.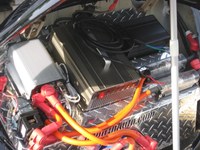 CITE's involvement in this initiative results from its participation, representing the national consortium, in the international sector group of the Network dedicated to the Automobile, Transport and Logistics areas. The Trnava region has become a European automotive hub, also hosting KIA and VW units, and Jaguar Land Rover has just completed the construction of a new unit in the area.
As part of this Info Day, the PSA opened its facilities to a select a delegation of foreign companies from other European regions that operate in the automobile industry, potentially interested in moving to the Trnava region. During the visit, the PSA unveiled its strategy of developing and consolidating partnerships with key stakeholders in its value chain and held bilateral meetings with each to assess concrete opportunities for collaboration.
INESC TEC has disseminated the event extensively, mobilising the Portuguese partners of the Enterprise Europe Network and the AFIA, a stakeholder of the Portuguese automotive industry.
From this collaborative communication effort, a group of seven companies from the North, Centre and South of the country were selected, including suppliers of components, accessories and engineering services for the automotive industry, with profiles that show a commitment to competitiveness through innovation. All the proposed companies were selected by the PSA to join the mission, six of which travelled to Trnava. In total, Portuguese companies participated in 20 transnational meetings, not only with the PSA but also with companies from other countries that participated in the mission.
In addition to this initiative, and during the first half of 2017, INESC TEC will participate as a co-organiser in four international brokerage events, with the seal of the Enterprise Europe Network: FutureMatch @ CeBIT, IoTMatch @ SIdO2017, 4th International B2B Software Days - The Future of Digital Business and B2B ERTICO - ITS.
INESC TEC, March 2017