Document Actions
ADVENTURE (news article)
Adaptive Virtual Enterprise Manufacturing Environment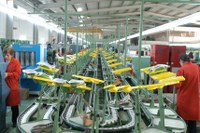 INESC TEC participates in European Industry Optimisation project
INESC TEC is participating in European project ADVENTURE (Adaptive Virtual Enterprise Manufacturing Environment). The goal is to create a reference framework, supported by a technological platform, which makes it possible to design, develop and execute business processes in a context of "virtual companies".
As part of the project, partners will develop advanced solutions that make it possible to design and execute business processes, manage knowledge databases and allow information to be exchanged between factories which are part of the organisation models known as 'virtual companies'. Covering the entire life cycle, the project will allow factories to go beyond their operational limitations by developing methodologies, tools and solutions, in a context of market dynamics, and explore the concept of plug-and-play when integrating business partners in the virtual company.
Through an innovative platform, it will be possible to globally optimise the processes of the entire value chain. Various functionalities will support life cycle management, including intelligent objects that may, for example, help monitor and adapt operational processes.
With a duration of three years, the project has a budget of 3.7 million euros provided by the EU 7th Framework Programme, and by the technology and industry partners and research institutes involved.
Coordinated by the University of Darmstadt (Germany), the Adventure involves a total of 10 partners: TIE, Ascora and iSOFT in the technology component, the Darmstadt University of Technology (Germany), INESC Porto, the Universidade of Vaasa (Finland) and the University of Vienna (Austria) as research institutes, as well as TANET, ABB and Azevedos Indústria as user organisations.
Coordinated by Américo Azevedo, the INESC TEC team involved in the project is composed of José Faria and Filipe Ferreira, researchers at INESC TEC's Centre for Enterprise Systems Engineering (CESE).
Project website: ADVENTURE