Document Actions
AC-DC
Automotive Chassis Development for 5-Day Cars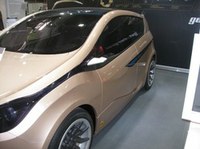 The main objective of project AC/DC is to develop a set of concepts and methods to radically improve the process of manufacturing a car, significantly decreasing the total time lapse between order and delivery to the customer. To achieve this ambitious goal, the project created a new and promising collaborative process: "Individual and highly reactive Planning Loops in the supply chain."
Once delivery must be 100% guaranteed, a critical path recovery tool (Fail-Save Real-Time Event Management) is introduced comprising a toolbox of measures that can be put in motion to deal with any disturbance within a tolerance period and according to their degree of seriousness.
The efficiency of this future system can only be validated realistically considering the emerging convergence of Mechatronics technology, "change in component technology", for the client (neutral high parameterisation modules). Therefore, AC-DC allows the automobile supply chain to move production from a traditional hierarchical process to a concurrent process based on knowledge to increase manufacturing capacity, reduce inventory and allow a quick a configuration of new varied products, and higher quality at lower costs.
AC-DC develops the requirement "collaborative concept of dynamic supply chain" that promotes the conventional delivery terms for a car (planning of 6 consecutive months of commissioning volumes, plus 6 weeks for delivery and a 10-day ability to stand-by) to change to a 5-day highly reactive system which reduces inventory in the supply network.
Leaving the concepts of hierarchical production behind by building planning loops, managing the dynamic supply network is an ideal test for the integration of high-tech module features and appropriate configuration features. All additional aspects, such as "fail-save real time event management", "forecasting demand for cooperation" and "planning consistency", "modular production technology processes", as well as "quality control and distributed testing" are construction blocks to form a network providing reliable and dynamic loops.
Project Leader:
Continental Teves AG (Germany)
Partners:
INESC Porto (Portugal)
BMW (Germany)
VW (Germany)
FhG (Germany)
U. Paderborn (Germany)
UniMoRe (Iália)
Autoliv (Sweden)
Mandator (Sweden)

Contacts: Jorge Pinho de Sousa