Document Actions
Inaugural meeting of the mobilising project PRODUTECH SIF with the participation of INESC TEC
INESC TEC was present at the inaugural meeting of the mobilising project PRODUTECH SIF – Solutions for the Industry of the Future, which took place on 2 November at the AIMMAP, PRODUTECH and CATIM facilities.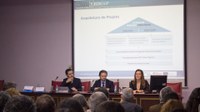 PRODUTECH SIF
The PRODUTECH – Production Technologies Cluster – action programme is composed of activities and projects in the fields of cooperation, internationalisation and innovation, which are developed in close collaboration with the main user sectors and entities of the scientific and technological systems, where INESC TEC operates.
Within this programme, mobilising projects assume particular importance, bringing together a critical mass of capacities, skills and actors, and creating the bases for the generation of the new production technologies that will equip the factories of the future.
The mobilising project PRODUTECH SIF, of whose consortium INESC TEC is part of, aims to facilitate the development and construction of new production systems based on advanced production technologies that will enable the manufacturing industry to face the challenges of the 4th industrial revolution.
On this day dedicated to the start of the project, António Correia Alves, head of the Centre for Enterprise Systems Engineering (CESE) of INESC TEC, organised a parallel session entitled "Development, Management and Improvement of Cyber-Physical Production Systems".
This project is funded by the Lisbon2020, Compete2020 and Portugal2020 programmes and by the European Regional Development Fund of the European Union.
The researcher mentioned in this news piece is associated with INESC TEC.