Document Actions
INESC TEC supports and participates in bioengineering symposium
Biomedical engineering is one of the most recent areas of expertise at INESC TEC, particularly after the creation of the Centre for Biomedical Engineering Research (C-BER) in the beginning of this year. However, INESC TEC was already working on several bio-related projects.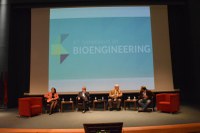 In order to disseminate INESC TEC's work in this area and to attract new researchers, INESC TEC joined the 6th Symposium on Bioengineering, not only to participate in different sessions but also as the official sponsor of the event.
This initiative, organised by the Bioengineering Student Association of the Faculty of Engineering of the University of Porto and the Abel Salazar Biomedical Sciences Institute (NEB - FEUP/ICBAS), took place between 21 and 22 November at FEUP. The symposium gathered about 400 participants, as well as national and international speakers.
Other than lectures, where speakers addressed topics on Biomedical Engineering, Biological Engineering and Molecular Biotechnology, this edition also included an Open Stage (where students had the opportunity to present their ideas in front of the audience), a poster competition and speed dating sessions (informal meetings between researchers and students to talk about professional careers and clarify doubts).
The INESC TEC researchers represented in the event included Orlando Frazão (Centre for Applied Photonics – CAP), with a lecture titled "Meet INESC TEC", and José Correia (Centre for Information Systems and Computer Graphics – CSIG), who participated in the speed dating session. Teresa Finisterra and Guilherme Aresta, trainee researchers at C-BER participated in the Open Stage. Members of INESC TEC's Laboratory of Artificial Intelligence and Decision Support (LIAAD), Centre for Telecommunications and Multimedia (CTM), Centre for Innovation, Technology and Entrepreneurship (CITE), C-BER and Industry Partnership Service (SAPE), who are in some way related to the Biomedical Engineering area, be it in projects or partnerships, represented the institution at a stand highlighting the research opportunities at INESC TEC.

INESC TEC, November 2014